LTAR Network Sites Overview
The 18 LTAR sites
The LTAR Network Sites: Strength Through Diversity
The network comprises 18 sites that use strategic research, coordinated experimentation, and common measurements to address agricultural challenges within and across major US agricultural ecosystems (croplands, grazinglands, and integrated systems). The LTAR network derives strength from its diversity: the sites span a range of geographies, climates, and agricultural systems and are exposed to a variety of stressors that affect agriculture.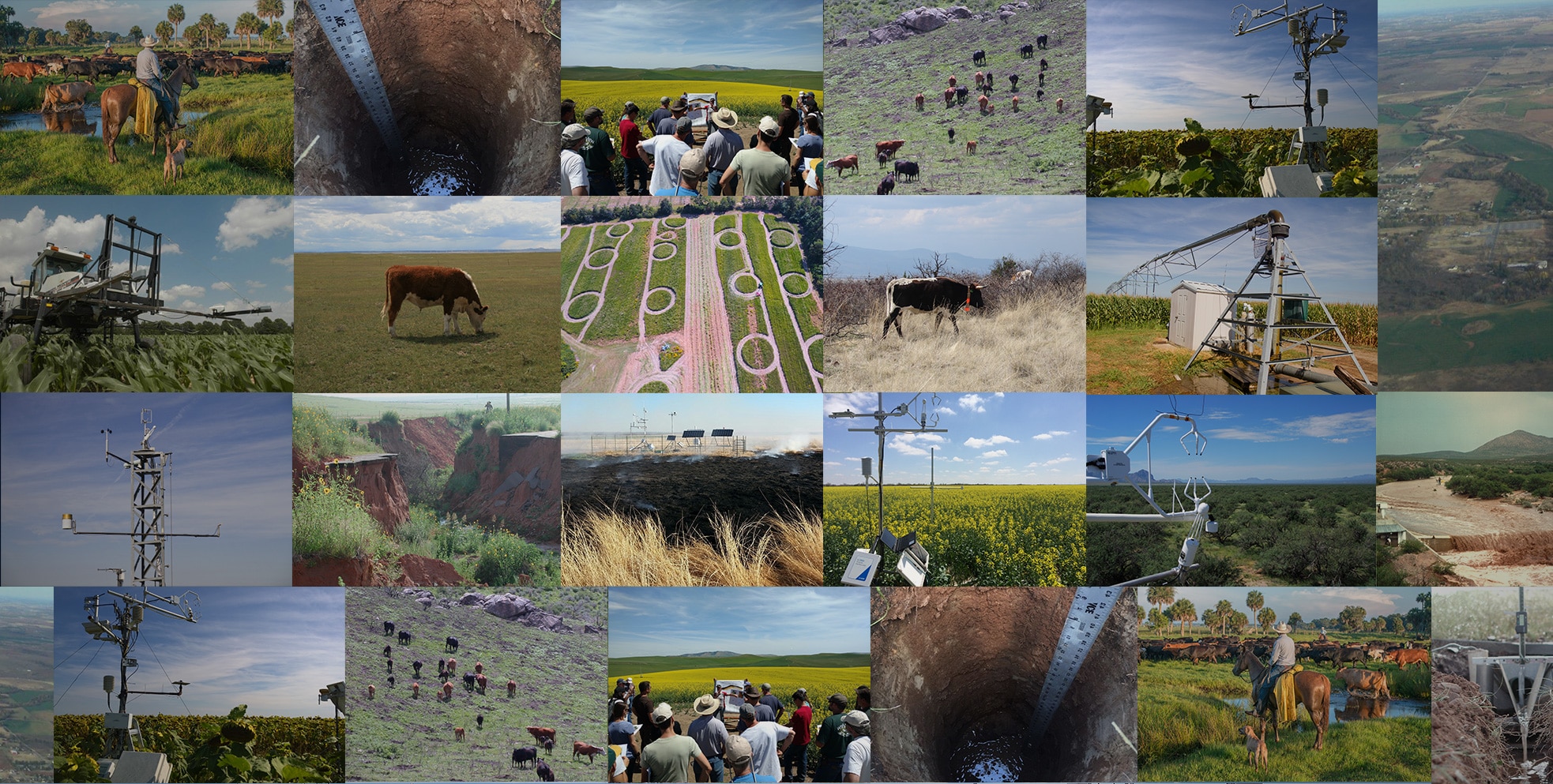 LTAR Network sites represent a partnership between multiple institutions including The United States Department of Agriculture – Agricultural Research Service (USDA-ARS), universities, and private research institutions working in cooperation to achieve these goals. 
All of these sites were well-established research locations prior to joining the LTAR network and continue to study local agricultural issues in addition to LTAR research goals. The rich legacy of research and data collection at each site compliments the coordinated research conducted within the LTAR network.
LTAR Network Geography
A spatial overview of the LTAR Network site locations and boundaries as well as related networks geospatial layers. (To enable/disable layers, click on the layers list to the right.)
LTAR Network Sites Summary
Summary matrix describing attributes for each of the 18 LTAR Network sites.
Site Name


(link to site page)

Site Code
Location
Established
Year Joined LTAR
Area (km2)
Network Affiliation
NEON Domain
Major crops, land use, and livestock production
Bibliographies
Archbold-University of Florida
ABS-UF
Lake Placid, FL; Venus, FL; Ona, FL
1941
2012
102
AmeriFlux, GLEON, NutNet, USCRN
D3 – Southeast
Beef cattle, pasture, rangeland, wildlife
Central Mississippi River Basin
CMRB
Columbia, MO (Goodwater Creek Experimental Watershed)
1971
2011
490
CEAP, SCAN
D6 – Prairie Peninsula
Grain cropping systems, some pasture, riparian forest
Long Bibliography
Central Plains Experimental Range
CPER
Cheyenne, WY; Nunn, CO
1939
2011
865
LTER, NEON, GRACEnet, NADP, NutNet, SCAN
D10 – Central Plains
Wheat-fallow, rangeland, beef cattle
Long Bibliography
Eastern Corn Belt
ECB
Columbus, OH
1974
2012
N/A
CEAP, GRACEnet
D7 – Appalachians / Cumberland Plateau
Cropland, swine, dairy poultry
Great Basin
GB
Boise, ID
1961
2012
239
CEAP, CZO, NADP, SCAN
D15 – Great Basin
Rangeland, beef cattle, wildlife
Short and Long Bibliographies
Gulf Atlantic Coastal Plain
GACP
Tifton, Georgia; (Little River Experimental Watershed)
1965
2011
334
CEAP, NADP, SCAN
D3 – Southeast
Cotton, peanuts, corn, vegetables (~50% irrigated); poultry, beef cattle
Short and Long Bibliographies
Jornada Experimental Range
JER
Las Cruces, NM; Monticello, UT (TNC Dugout Ranch)
1912
2011
780
CEAP, COSMOS, LTER, NEON, NWERN, SCAN, UV-B MRP, USCRN, WNBR
D14 – Desert Southwest
Rangeland, beef cattle, wildlife
Kellogg Biological Station
KBS
Hickory Corners, MI
1987
2012
13
LTER, AmeriFlux, NADP, NutNet
D5 – Great Lakes
Row crops, forage crops, bioenergy crops, mixed grasses, prairie, forest, dairy
Lower Chesapeake Bay
LCB
Beltsville, MD, Eastern Shore, MD/DE (LCB Choptank River Watershed)
1910
2012
2600
CASTnet, CEAP, COSMOS, EOS, NADP, GRACEnet, SCAN, UV-B MRP
D2 – Mid Atlantic
Cropland, poultry, dairy, forages, pasture, horticulture
Lower Mississippi River Basin
LMRB
Oxford, MS
1981
2012
21.3
COSMOS, CEAP, SURFRAD, SCAN
D8 – Ozarks Complex
Cotton, corn, soybeans, rice, catfish, sugar cane
Long Bibliography
Northern Plains
NP
Mandan, ND (Northern Great Plains Research Laboratory)
1912
2011
9.7
NEON, CEAP, GRACEnet, REAP, SCAN
D9 – Northern Plains
Small grains, row crops, beef cattle on grazing lands
Short and Long Bibliographies
Platte River/High Plains Aquifer
PRHPA
Lincoln, NE
1912
2012
16500
AmeriFlux, GRACEnet, REAP, SCAN
D6 – Prairie Peninsula
Cropland, rangeland, beef cattle, biofuels
R.J. Cook Agronomy Farm
CAF
Pullman, WA
1999
2011
0.57
7 LTAP, GRACEnet, REAP, NADP, SCAN
D15 – Great Basin
Wheat, barley, pulses (peas, lentils, chickpeas)
Southern Plains
SP
El Reno, OK (Little Washita River/Fort Cobb Reservoir Experimental Watersheds)
1948,1961
2011
1,423
CEAP, COSMOS, SCAN
D11 – Southern Plains
Beef cattle, winter wheat, pasture, forages, prairie
Texas Gulf
TG
Temple, TX
1937
2012
N/A
CEAP, GRACEnet, NutNet, LTBE, SCAN
D11 – Southern Plains
Cropland, rangeland, pasture, remnant prairie
Long Bibliography
Upper Chesapeake Bay
UCB
University Park, PA (Upper Chesapeake Bay Experimental Watersheds)
1968
2011
1,127
CEAP, GRACEnet, SCAN
D2 – Mid Atlantic
Row crops, dairy, pasture, forest
Short Bibliography
Upper Mississippi River Basin
UMRB
Ames, IA (Upper Mississippi River Basin Experimental Watersheds); Roseomount, MN (ARS St. Paul); Platteville, WI (University of Wisconsin Platteville,Pioneer Farm); Morris, MN (UMRB Swan Lake Research Farm)
1992
2011
6,200
AmeriFlux, CEAP, GRACEnet, SCAN
D6 – Prairie Peninsula
Corn-soybean with livestock (swine, beef, dairy)
Short and Long Bibliographies
Walnut Gulch Experimental Watershed
WGEW
Tombstone,AZ (Walnut Gulch Experimental Watershed); Green Valley, AZ (Santa Rita Experimental Range)
1953
2011
150
Ameriflux, CEAP, COSMOS, EOS, GRACEnet, SCAN
D14 – Desert Southwest
Rangeland, beef cattle, wildlife
The USDA Agricultural Research Service (ARS) Long-Term Agroecosystem Research network consists of 18 Federal and university agricultural research sites with an average of over 50 years of history. The goal of this research network is to ensure sustained crop and livestock production and ecosystem services from agroecosystems, and to forecast and verify the effects of environmental trends, public policies, and emerging technologies.